"If it can be concieved, it can be achieved"
Company Service
All wood components are pre cut and/or assembled inside our facilities. This protects such material from any long term exposure to weather, increases quality control and aids in cost control by utilizing materials that would otherwise be discarded on a jobsite.
Designs
Our design experts begin the first phase by interviewing the client to get basic information such as number of bedrooms and baths, size requirements for living, dining, kitchen, studio and media rooms… Our specialist can determine space requirments based on your needs. We then visit the home site and have a topographical survey done to ensure a congruent design for the local terrain. This "Topo" also helps with engineering and will determine the need to remove or acquire fill dirt. There are many aspects to the design phase including our clients' tastes and personality. We feel that a home should not only be comfortable, convenient and efficient but an extension of the homeowner.
Sitck-by-stick
We also offer highly detailed stick by stick plans that include length, angle and bevel cuts for each stud, joist and beam needed for any project. Each piece has a location and wall designation to ensure ease of framing and eliminate any confusions. Simply send a conceptual design and we can do the rest. If the design requires steel, we can handle that as well.
Facilities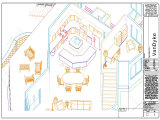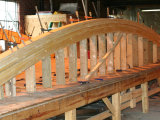 Curved roofs. curved roof systems. curved wood. curved. swooped roofs. sweep roofs. gambrel roofs. curved wood beams. Curved wood I joist. CTJI. curved tji. custom roofs. custom curved building. gambrel. curved roofing. how do you build a curved roof. How do you draw a curved roof. where do you find curved roofs. where can you buy curved roofs. how do you draw a curved. where do you buy a curved.